14 films receive production support from the Finnish Film Foundation in October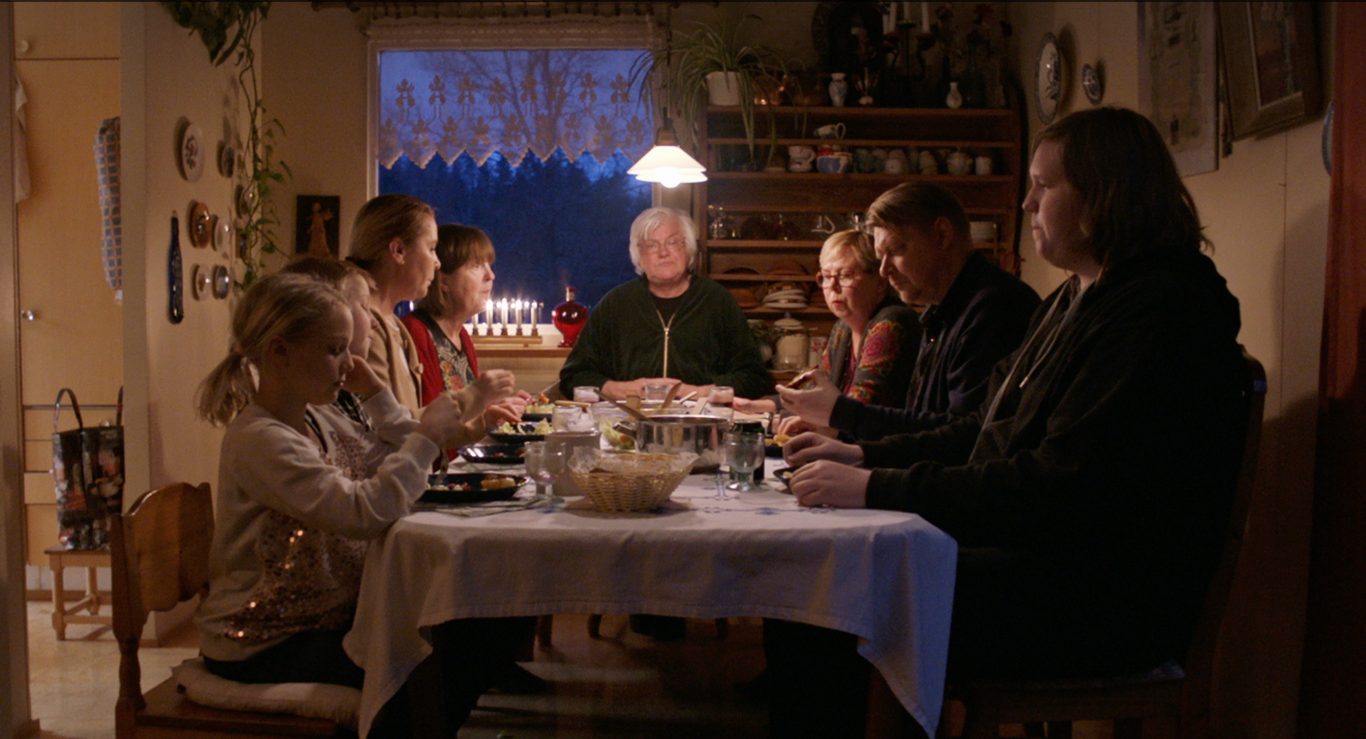 In its third support round of the year, Finnish Film Foundation received 51 production support applications totalling over 11.7 million euros. The Managing Board of the Foundation granted a little over 3 million euros to 14 applicants.
Image: Family Time / Film Company Aamu
Among them are five feature films. Film Company Aamu, which is behind the Cannes Grand Prix winner Compartment no. 6, will produce the debut feature of Tia Kouvo, titled Family Time. The film, based on a short film by Kouvo, is a story of a dysfunctional family's Christmas holiday.
Katja Gauriloff (Canned Dreams, Baby Jane) will direct her sophomore feature in Skolt Sami. The film is titled Je'vida and it tells the story of a Sami woman who lost a connection to her roots because of forced assimilation. Gauriloff has written the film together with author Niillas Holmberg and Oktober is producing.
Seasoned filmmaker Taru Mäkelä will write and direct a Christmas comedy film Ihana, kamala joulu, based on the Swedish film En underbar jävla jul from 2015. Don Films will produce the film.
The other two feature films are Estonian-Finnish co-productions: 8 Views of Lake Biwa by Marko Raat and Black Hole by Moonika Siimets.
The other supported projects are seven documentary films and two short films. Three of the documentary films are Finnish minority co-productions, with South Africa, Norway and Poland.
Feature films
8 Views of Lake Biwa
minority co-production
Director & scriptwriter: Marko Raat
Producers: Ivo Felt, Dora Nedeczky / Allfilm (Estonia)
Finnish co-producers: Misha Jaari, Mark Lwoff / BUFO
Support sum: 170 000 euros
Black Hole (Must auk)
minority co-production
Director & scriptwriter: Moonika Siimets
Producer: Riina Sildos / Amrion (Estonia)
Finnish co-producers: Jussi Rantamäki, Emilia Haukka / Film Company Aamu
Support sum: 150 000 euros
Family Time (Mummola)
Director & scriptwriter: Tia Kouvo
Producers: Jussi Rantamäki, Emilia Haukka / Film Company Aamu
Support sum: 680 000 euros
Ihana, kamala joulu
Director & scriptwriter: Taru Mäkelä
Producer: Aleksi Hyvärinen / Don Films
Support sum: 685 000 euros
Je'vida
Director: Katja Gauriloff
Scriptwriters: Katja Gauriloff, Niillas Holmberg
Producers: Joonas Berghäll, Satu Majava / Oktober
Support sum: 850 000 euros
Documentary films
African Moot
minority co-production
Director & scriptwriter: Shameela Seedat
Producers: Francois Verster, Shameela Seedat / Undercurrent Film & Television (South Africa)
Finnish co-producers: Venla Hellstedt, Juha Löppönen / Tuffi Films
Support sum: 35 000 euros
Hallelujah
minority co-production
Director & scriptwriter: Tonje Hessen Scjhei
Producers: Christian A. Falch, Torstein Parelius / Up North Film (Norway)
Finnish co-producer: Kaarle Aho / Making Movies
Support sum: 28 000 euros
Kahden kodin tyttö
Directors & scriptwriters: Inka Achté, Hanna Karppinen
Producers: Liisa Karpo / napafilms
Support sum: 30 000 euros
Poikkeustila
Director: working group
Scriptwriters: Susanna Helke, Esa Illi, Anu Kuivalainen, Saara Helene Rawat
Producer: Saara Helene Rawat / BonsaiFilms
Support sum: 110 000 euros
Power of the People (Kansanvalta)
Director & scriptwriter: Mervi Enqvist
Producers: Essi Haukkamaa / Greenlit Productions
Support sum: 80 000 euros
Respect
Directors & scriptwriters: Milja Moilanen, Eveliina Pasanen
Producer: Elli Toivoniemi / Tuffi Films
Support sum: 114 000 euros
Wika!
minority co-production
Director & scriptwriters: Agnieszka Zwiefka
Producers: Katarzyna Ślesicka, Anna Stylińska / My Way Studio (Poland)
Finnish co-producer: Outi Rousu / Pystymetsä
Support sum: 35 000 euros
Short films
Kati
Director: Anu Pennanen
Scriptwriter & producer: Stéphane Querrec / Palo Productions
Support sum: 12 000 euros
Blush – an Extraordinary Voyage
animated
Director & scriptwriter: Iiti Yli-Harja
Producer: Valtteri Munkki / Side Stories
Support sum: 40 000 euros