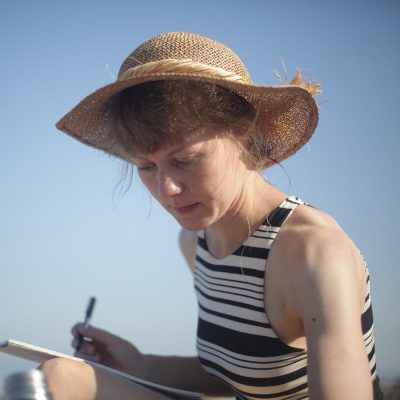 Heta Jäälinoja
Heta Jäälinoja (b. 1989) got interested in weird animation when her mother took her to Tampere Film Festival when she was 13. Heta studied animation at Turku Arts Academy and finished her MA in animation at Estonian Academy of Arts in 2016. Her graduation film Penelope won multiple awards in festivals and was nominated for best short film in the Finnish film awards in 2018.
In filmmaking, Heta is interested in rhythm and conveying the atmosphere of small moments. She tries to find humour and comfort in imperfection and disappointments. She balances between coherent narrative structures and a feeling-based, intuitive approach. In a perfect world, she would work without computers. She's inspired by artists around her, puppet theatre, live-action cinema, music, poetry and dance.

Heta works with simple yet expressive pencil lines, in both still and moving images. Usually, the first fast sketches become the final compositions and characters. They have the carelessness and amusement that's hard to achieve by conscious planning.

Her characters express themselves more through pose and action, rather than through facial expression. Heta studied to make non-dialogue animation, but because she really likes words, she's dreaming of making a dialogue-based film someday.

Heta has been animating in short films and has made animation for theatre and museums. She's also a beginner printmaker, but she swears she will never get into stitching or ceramics. Since 2016, she teaches animation and mentors animation students at Aalto University, Metropolia University of Applied Sciences and Estonian Academy of Arts.