1.8 million admissions for Finnish films in distribution abroad in 2022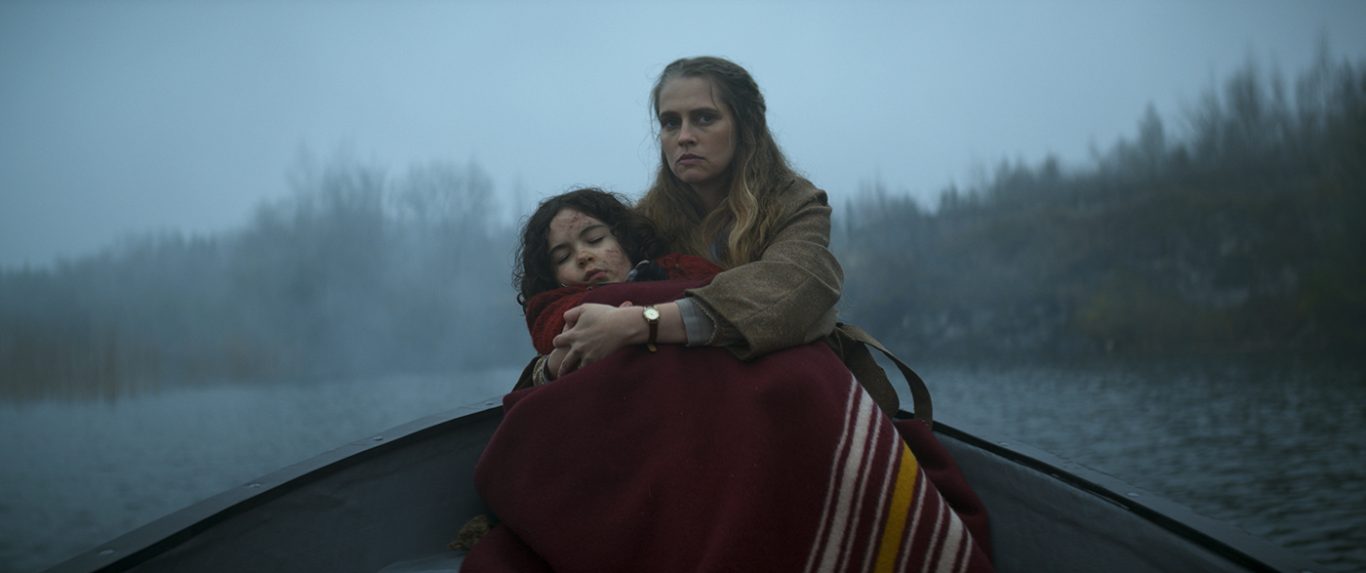 The horror film The Twin became a hit in Latin America.
Image: The Twin / Don Films
European Audiovisual Observatory / LUMIERE has published international admissions figures from last year. Altogether 70 films with a Finnish producer or co-producer got 1.8 million admissions outside of Finland. 51 of those films had a Finnish main producer and those films had 1.1 million admissions. Domestically, Finnish films had just under 1.6 million admissions.
Four films got more than 100,000 admissions, and the top two films went above 500,000. The most watched film was The Twin by Taneli Mustonen. Set in Finland, the English-language horror film was popular especially in Latin America. In Mexico alone, it got 275,000 admissions.
Boy from Heaven (aka Cairo Conspiracy), the Swedish-French-Finnish-Danish co-production directed by Tarik Saleh, was number two on the list. In many countries, the film will premiere this year, so its final admissions numbers are still on the rise. Compartment no. 6, by Juho Kuosmanen, which premiered already in 2021, has over 500,000 total admissions, with 240,000 admissions from last year.
The top 20 includes also another horror film, Hatching by Hanna Bergholm, as well as animated films (two Moomin films and the first Niko animation), festival hits (The Gravedigger's Wife, The Blind Man, Girl Picture) and all of three films directed by Mika Kaurismäki. The most popular documentary films, with about 1,000 admissions each, were Invisible Demons by Rahul Jain and Aalto by Virpi Suutari. The latter premiered already in 2020 and its total admissions abroad are over 21,000.
NB: The LUMIERE figures are still missing the numbers from some countries so the true admissions figures for each film may be higher.
Since 2021, the Finnish Film Foundation has granted support for international distribution. So far, 20 films have received a total of 325,600 euros in support.
See below lists of the most popular Finnish films in international distribution and at international festivals.
Top 20 Finnish films in international distribution 2022
| | | | | | | |
| --- | --- | --- | --- | --- | --- | --- |
| | Film | Director | Year | Production countries | Admissions abroad 2022 | Total admissions abroad |
| 1 | The Twin | Taneli Mustonen | 2022 | FI | 587 277 | 587 277 |
| 2 | Boy from Heaven | Tarik Saleh | 2022 | SE / FR / FI / DK | 561 070 | 561 070 |
| 3 | Compartment no. 6 | Juho Kuosmanen | 2021 | FI / RU / EE / DE | 239 624 | 503 669 |
| 4 | Hatching | Hanna Bergholm | 2022 | FI / SE | 129 146 | 129 146 |
| 5 | The Innocents | Eskil Vogt | 2021 | NO / SE / DK / FI / FR / GB | 80 821 | 98 909 |
| 6 | The Exploits of Moominpappa – Adventures of a Young Moomin | Ira Carpelan | 2021 | FI / PL | 37 343 | 37 343 |
| 7 | Tove | Zaida Bergroth | 2020 | FI / SE | 28 953 | 97 857 |
| 8 | Dual | Riley Stearns | 2022 | US / FI | 22 964 | 22 964 |
| 9 | The Gravedigger's Wife | Khadar Ayderus Ahmed | 2021 | FI / DE / FR / SO / QA | 15 320 | 18 890 |
| 10 | Gracious Night | Mika Kaurismäki | 2020 | FI | 15 121 | 15 121 |
| 11 | O2 | Margus Paju | 2020 | EE / FI / LV / LT | 9 310 | 91 186 |
| 12 | The Grump: In Search of an Escort | Mika Kaurismäki | 2022 | FI / DE | 6 922 | 6 922 |
| 13 | The Other Side of the River | Antonia Kilian | 2021 | DE / FI | 6 093 | 6 093 |
| 14 | Master Cheng | Mika Kaurismäki | 2019 | FI / CN | 5 904 | 154 153 |
| 15 | Ladies of Steel | Pamela Tola | 2019 | FI | 5 638 | 12 280 |
| 16 | Niko & the Way to the Stars | Michael Hegner, Kari Juusonen | 2008 | FI / DE / DK / IE | 4 553 | 2 767 418 |
| 17 | The Blind Man Who Did Not Want to See Titanic | Teemu Nikki | 2021 | FI | 4 541 | 6 245 |
| 18 | Comet in Moominland | Hiroshi Saitô, Markus Bäckman, Carla Rindell | 2021 | FI | 4 235 | 4 235 |
| 19 | Deserted | Kadri Kõusaar | 2021 | EE / SE / FI | 3 970 | 3 970 |
| 20 | Girl Picture | Alli Haapasalo | 2022 | FI | 3 590 | 3 590 |
Top countries for Finnish films in 2022
| | | | |
| --- | --- | --- | --- |
| | Country | Finnish films in distribution | Total admissions (for Finnish majority productions) |
| 1 | Mexico | 2 | 313 361 |
| 2 | Italy | 3 | 94 934 |
| 3 | Germany | 6 | 85 380 |
| 4 | Brasil | 1 | 76 788 |
| 5 | Poland | 6 | 63 161 |
| 6 | Colombia | 1 | 51 828 |
| 7 | The Netherlands | 5 | 51 111 |
| 8 | Argentina | 2 | 50 250 |
| 9 | The United States | 2 | 37 262 |
| 10 | Turkey | 3 | 35 532 |
Top 20 feature-length films at international film festivals in 2022
| | | | | |
| --- | --- | --- | --- | --- |
| | Film | Director | Festivals | Fiction/documentary |
| 1 | Girl Picture | Alli Haapasalo | 49 | Fiction |
| 2 | The Blind Man Who Did Not Want to See Titanic | Teemu Nikki | 37 | Fiction |
| 3 | Hatching | Hanna Bergholm | 34 | Fiction |
| 4 | Shepherds of the Earth – Stories from the Cradle of Humankind | Iiris Härmä | 31 | Documentary |
| 5 | The Woodcutter Story | Mikko Myllylahti | 29 | Fiction |
| 6 | Aalto | Virpi Suutari | 24 | Documentary |
| 7 | Any Day Now | Hamy Ramezan | 23 | Fiction |
| 7 | Maija Isola | Leena Kilpeläinen | 23 | Documentary |
| 7 | Karaoke Paradise | Einari Paakkanen | 23 | Documentary |
| 10 | Compartment no. 6 | Juho Kuosmanen | 21 | Fiction |
| 10 | How to Kill a Cloud | Tuija Halttunen | 21 | Documentary |
| 12 | Heartbeast | Aino Suni | 13 | Fiction |
| 12 | Vinski and the Invisibility Powder | Juha Wuolijoki | 13 | Fiction |
| 12 | Just Animals | Vesa Kuosmanen, Saila Kivelä | 13 | Documentary |
| 12 | The Happy Worker | John Webster | 13 | Documentary |
| 12 | Ruthless Times – Songs of Care | Susanna Helke | 13 | Documentary |
| 12 | The New Greatness Case | Anna Shishova | 13 | Documentary |
| 18 | School of Hope | Mohamed El Aboudi | 12 | Documentary |
| 18 | The Mission | Tania Anderson | 12 | Documentary |
| 20 | The Exploits of Moominpappa – Adventures of a Young Moomin | Ira Carpelan | 11 | Fiction |
Top 5 Finnish short films at international film festivals in 2022
| | | | |
| --- | --- | --- | --- |
| | Film | Director | Festivals |
| 1 | Night of the Living Dicks | Ilja Rautsi | 30 |
| 2 | The Human Torch | Risto-Pekka Blom | 23 |
| 3 | Service | Mikko Makela | 20 |
| 4 | The Landing | Kaisa Penttilä | 15 |
| 5 | The Blanket | Teppo Airaksinen | 13 |