12 new films receive production support from the Finnish Film Foundation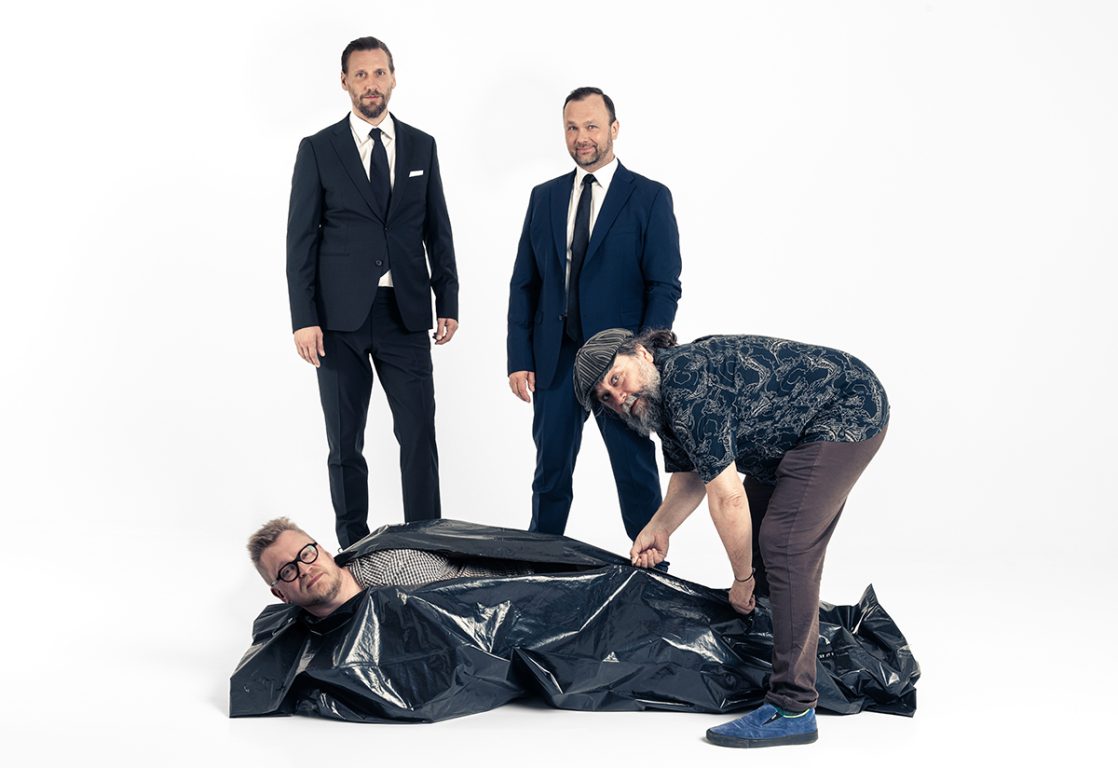 The Board of the Finnish Film Foundation granted a total of 3,352,500 euros to six feature films and six documentaries. Three of the films are international minority co-productions.
Image: actors Pekka Strang and Jari Virman, writer-director Teemu Nikki and producer Jani Pösö (It's Alive Films) from the film Death Is a Problem for the Living. Photographer: Jari Salo.
Teemu Nikki, whose previous feature The Blind Man Who Did Not Want to See Titanic has been a festival hit during the last year, is in production with Death Is a Problem for the Living, a genre-bending dark comedy about addiction, friendship and carrying dead bodies.
Legendary filmmaker and cinematographer Pirjo Honkasalo will direct Orenda, a feature film about guilt and mercy, based on a script by author Pirkko Saisio.
Tiina Lymi is directing a major period film Stormskerry Maja. The filming of the Swedish-language drama has started in Åland, with Swedish actors Amanda Jansson and Linus Troedsson in the lead.
See all supported projects below:
Feature films
Death Is a Problem for the Living – previously The Player (Kuolema on elävien ongelma)
Director & scriptwriter: Teemu Nikki
Producer: Jani Pösö / It's Alive Films
Support sum: 175,000 euros
Finders 2 – Pharaohs Ring (Pertsa ja Kilu 2)
children's film
Director: Taavi Vartia
Scriptwriters: Taavi Vartia, Nina Linnovaara
Producer: Taavi Vartia / Taavi Vartia Tuotannot
Support sum: 150,000 euros
Itty Bitty Princess – Adults can go to Hilldiggle! (Prinsessa Pikkiriikki – Aikuiset Himpskattiin!)
children's film
Director: Lauri Maijala
Scriptwriters: Hannele Lampela, Tuuli Kanervankallio
Producer: Tia Ståhlberg / Helsinki-filmi
Support sum: 775,000 euros
Orenda
Director: Pirjo Honkasalo
Scriptwriter: Pirkko Saisio
Producers: Mark Lwoff, Misha Jaari / Bufo
Support sum: 850,000 euros
Stormskerry Maja (Myrskyluodon Maija)
Director & scriptwriter: Tiina Lymi
Producers: Jukka Helle, Markus Selin, Hanna Virolainen / Solar Films
Support sum: 920,000 euros
The Swedish Torpedo
minority co-production
Director: Frida Kempff
Scriptwriters: Frida Kempff, Marietta von Hausswolff
Finnish co-producer: Klaus Heydemann / Inland Film Company
Support sum: 187,500 euros
Documentary films
Children of the Lowest Heaven (Ønskeliv)
minority co-production
Director & scriptwriter: Birgitte Stærmose
Finnish co-producer: Bufo
Support sum: 35,000 euros
In the Ballpark of Finland (Suomeen juurtuneet)
Director & scriptwriter: Arto Halonen
Producer: Arto Halonen / Art Films Production AFP
Support sum: 50,000 euros
Sodan ja rauhan lapset
Director & scriptwriter: Ville Suhonen
Producer: Jouko Aaltonen / Illume
Support sum: 80,000 euros
Oh No, a Mouse! (Täällä haisee hiiri)
animated
Director & scriptwriter: Iiti Yli-Harja
Producer: Oona Saari / Illume
Support sum: 45,000 euros
Making Art in My Dreams
animated
Director & scriptwriter: Leena Jääskeläinen
Producer: Marko Tandefelt / Osuuskunta Animaatiokopla
Support sum: 50,000 euros
Varado
minority co-production
Directors & scriptwriters: Nicos Argillet, Stèphane Correa
Producer: Kaarle Aho / Making Movies
Support sum: 35,000 euros