Here are the Jussi Film Award winners of 2023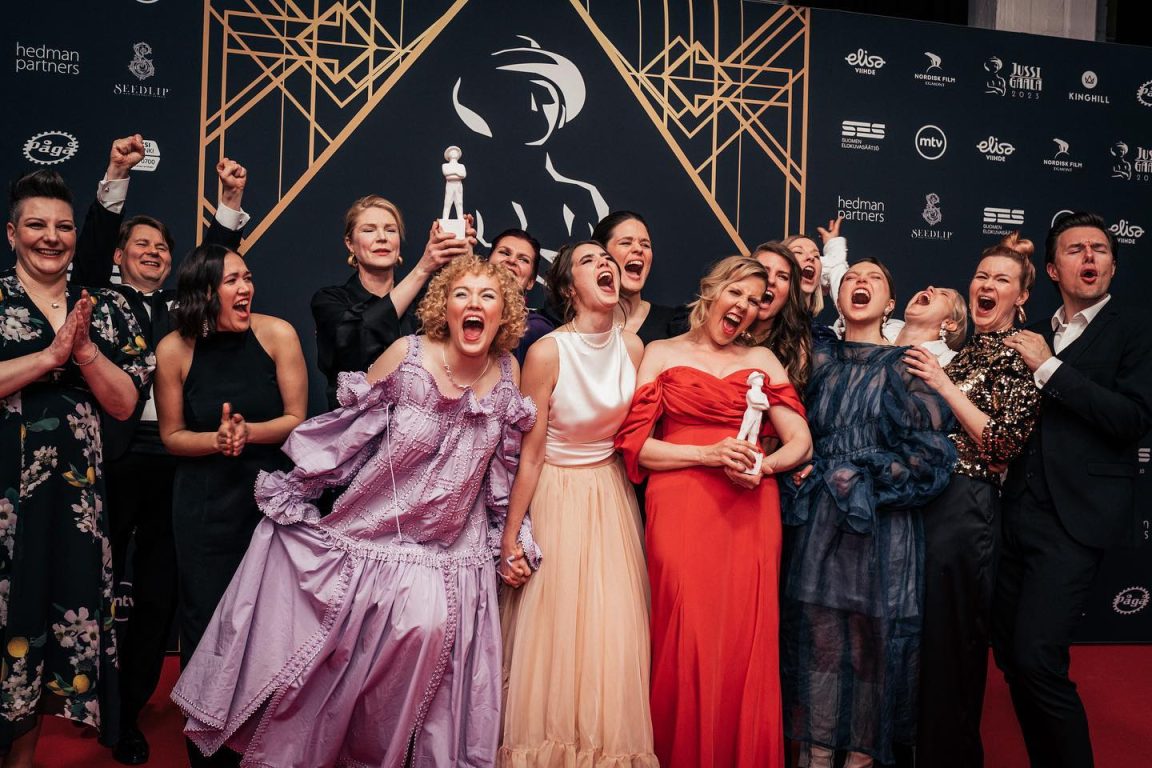 Girl Picture took home the Film of the Year award and three other Jussi statues. The winners were chosen by the members of Filmiaura.
Image: the team of Girl Picture / One Take Productions
The Jussi Film Awards Gala was held on Friday, March 24 in Helsinki. Girl Picture was the most awarded film with four wins. Kikka!, Hatching and Heart Beast all got two awards each. Bubble, Hit Big and The Woodcutter Story each won one award, as well as the Best Short Film winner All My Mom's Phone Calls and Best Documentary Film winner Karaoke Paradise.
Filmiaura decided last year to renew the gender-based acting categories. This year, the four acting categories were: Best Leading Actor, Best Supporting Actor, Best Newcomer and "Bright Spot of the Screen" ("valkokankaan valopilkku").
Filmiaura also hands out the Lifetime Achievement Award Betoni-Jussi, which went to actor Esko Salminen. His first role was already as a small child in 1949. Some of his most memorable roles were in films such as The Stars Will Tell, Inspector Palmu (1962), Poet and Muse (1978), Sign of the Beast (1981), Mother of Mine (2005) and Once Upon a Time in the North (2012).
The audience favorite was voted on the Elisa Viihde site. The film that received the most votes was MC Helper beKINGs, directed by Kaitsu Walfrid Rinkinen and produced by Minna Haapkylä, Sanna Kultanen, Eve Särkänne and Janne Kaperi (Rabbit Films and Biisonimafia / KR-Produktio).
Nordisk Film handed out a 20,000-euro Nordisk Film Award for the fifth time. It went to the team behind the horror film Hatching: cinematographer Jarkko T. Laine, producer Mika Ritalahti, scriptwriter Ilja Rautsi and director Hanna Bergholm.
Filmiaura's Good Deed of the Year Award ("Vuoden uroteko") went to intimacy choreographer Pia Rickman and actor Saara Kotkaniemi who have worked for a better film industry by promoting safety in intimacy scenes. The 2,500-euro award was sponsored by Kinos Rentals.
See photos from the Gala (Facebook page)
Jussi Awards 2023
FILM OF THE YEAR
Girl Picture (Tytöt tytöt tytöt) – producers Leila Lyytikäinen, Elina Pohjola / Citizen Jane Productions
DIRECTING
Alli Haapasalo – Girl Picture (Tytöt tytöt tytöt)
LEADING ROLE
Sara Melleri – Kikka!
SUPPORTING ROLE
Ilkka Heiskanen – Hit Big (Hetki lyö)
NEWCOMER IN ACTING
Stella Leppikorpi – Bubble (Kupla)
BRIGHT SPOT OF THE SCREEN
Linnea Leino – roles in films Girl Picture (Tytöt tytöt tytöt), Witness the Fitness (Punttikomedia), Lapland Odyssey 4 (Napapiirin sankarit 4)
SCRIPT
Ilona Ahti, Daniela Hakulinen – Girl Picture (Tytöt tytöt tytöt)
CINEMATOGRAPHY
Kerttu Hakkarainen – Heartbeast (Sydänpeto)
MUSIC
JB Dunckel – Heartbeast (Sydänpeto)
SOUND DESIGN
Jorma Kaulanen, Peter Albrechtsen – The Woodcutter Story (Metsurin tarina)
EDITING
Samu Heikkilä – Girl Picture (Tytöt tytöt tytöt)
SET DESIGN
Päivi Kettunen – Hatching (Pahanhautoja)
COSTUME DESIGN
Tiina Kaukanen – Kikka!
MAKE-UP DESIGN
Marina Ritvall, Conor O'Sullivan – Hatching (Pahanhautoja)
DOCUMENTARY FILM
Karaoke Paradise (Karaokeparatiisi) – director Einari Paakkanen, producer Marianne Mäkelä / napafilms
SHORT FILM
All My Mom's Phone Calls (Kaikki äitini puhelut) – director Iiti Yli-Harja
LIFETIME ACHIEVEMENT AWARD BETONI-JUSSI
Esko Salminen