Over 3 million euros of production support in June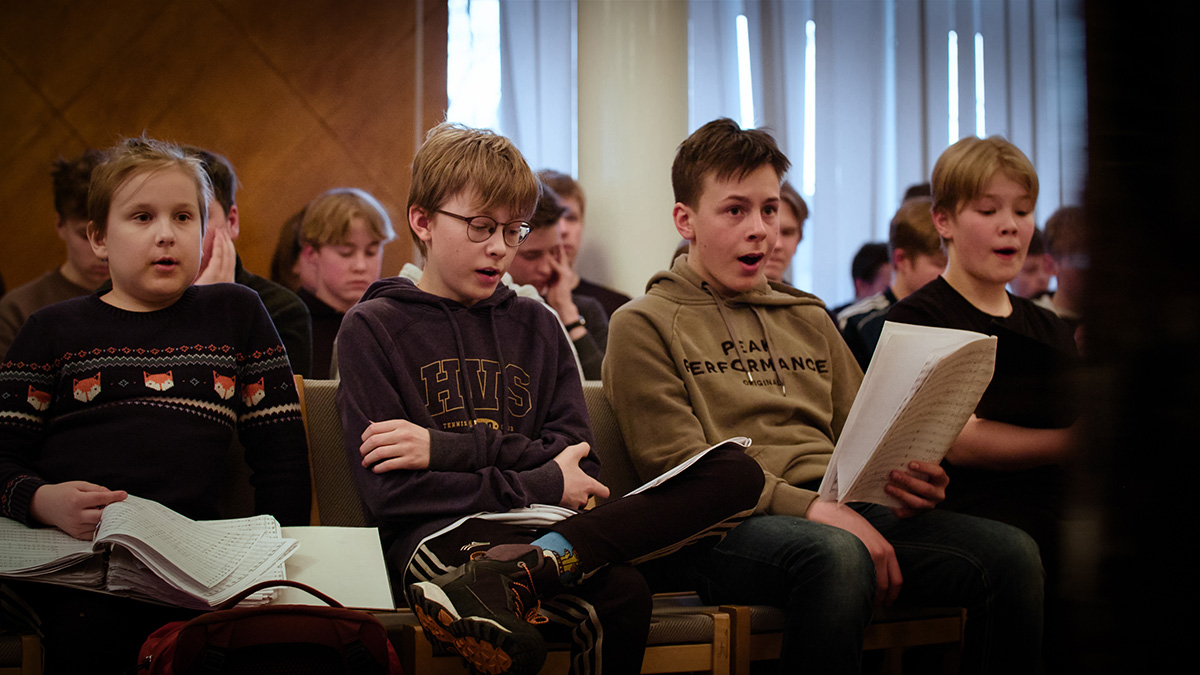 The board of the Finnish Film Foundation granted 3.083 million euros in production support in June.
Image: Femkanten Media got production support for a documentary film about the Cantores Minores choir, directed by Minna von Reiche and Tuuli Kuittinen.
Of the 15 productions, seven are feature films, including four minority co-productions. The selection also includes four documentary films, two short films and two animated series.
Feature films
Apathy (Apatia)
international minority co-production FR-DE-FI
Director: Alexandros Avranas
Scriptwriters: Alexandros Avranas, Stavros Pamballis
Producers: Alejandro Arenas, Kaarle Aho, Sylvie Pialat
Finnish co-production company: Making Movies – Nordberg & Aho
Production company: Les Films du Worso (France)
Support sum: 165 000 €
Budget: 3 552 000 €
Sergei and Natalia are political asylum-seekers who fled Russia for Sweden with their two daughters, Katja and Alina, hoping for a new life. Those hopes are crushed when their application is rejected. Their daughter Katja, traumatized by this episode, collapses and falls into a coma: a condition known as Resignation Syndrome or Apathy. Their parents will try everything to create an atmosphere of safety, stability and hope that their daughters need to feel in order to wake up.
Árru
international minority co-production NO-SE-FI
Director: Elle Sofe Sara
Scriptwriters: Johan Fasting, Elle Sofe Sara
Producers: Elisa Fernanda Pirir, Gary Cranner, Sanna Kultanen, Jani Pösö, Mimmi Spång
Finnish co-production company: It's Alive Films
Production company: Stær (Norway)
Support sum: 150 000 €
Budget: 1 500 000 €
Árru is a Sami joik musical about Maia, a reindeer herder who joins the fight against the destruction of the reindeer grazing area. As the fight escalates, Maia is confronted with the reality that their leader is an abuser. She faces a difficult choice: stay quiet and save her family heritage, or speak up and stop the abuse in the community?
Banzai eli Leap of Faith Luottomies
Director & scriptwriter: Kari Ketonen
Producers: Antti Luusuaniemi, Krista Hannula
Production company: Red Carpet Film&tv
Support sum: 150 000 €
Budget: 920 000 €
The first feature film based on a popular TV comedy
Heavy Trip: Faster, Harder, Louder (Hevi reissu 2)
Directors: Jukka Vidgren, Juuso Laatio
Scriptwriters: Juuso Laatio, Jukka Vidgren, Ilja Rautsi, Aleksi Puranen
Producers: Kaarle Aho, Kai Nordberg
Production company: Making Movies – Nordberg & Aho
Support sum: 745 000 €
Budget: 2 815 000 €
In order to save the reindeer slaughterhouse of the parents of their guitar player, Impaled Rektum, the weirdest heavy metal band in the world, escapes a Norwegian prison and heads towards Germany and Wacken, the world-famous heavy metal festival.
Raptures (Rörelser/Liikutuksia)
international minority co-production SE-FI
Director & scriptwriter: Jon Blåhed
Producers: Tiina Pesonen, Tony Österholm, Andreas Emanuelsson
Finnish co-production company: Rabbit Films
Production company: Iris Film (Sweden)
Support sum: 250 000 €
Budget: 2 667 000 €
Rakel is a strict Christian believer living in the far north of Sweden in the 1930s. When her husband forms a sectarian movement, with directions straight from God, she has no choice but to join the increasingly explicit cult.
Redoubt (Värn/Linnake)
international minority co-production SE-FI
Director: John Skoog
Scriptwriters: John Skoog, Kettil Kasang
Producers: Erik Hemmendorff, Caroline Drab, Misha Jaari, Mark Lwoff
Finnish co-production company: Bufo
Production company: Plattform (Sweden)
Support sum: 150 000 €
Budget: 1 946 000 €
Affected by the powerful images in the pamphlet Om kriget kommer (If the war comes), farmhand Karl-Göran Persson begins fortifying his house. Through years of harvesting scrap-metal, he transforms the house into a fortress, meant to protect him and his neighbors when the enemy attacks. Despite the lack of understanding and sympathy from his neighbors and people from the surrounding villages, he continues building, without pause until his death. The difference between his own sense of impending doom and the perceptions of the people around him gradually blur as the film progresses.
Therapy (Terapia)
Director & scriptwriter: Paavo Westerberg
Producers: Pete Eklund, Liisa Penttilä-Asikainen
Production company: Kaiho Republic
Support sum: 700 000 €
Budget: 1 360 000 €
The sophomore feature from Paavo Westerberg, a drama-comedy about the difficulty of change
Documentary films
Annelin aika
Director & scriptwriter: Saara Cantell
Producer: Markku Tuurna
Production company: Filmimaa
Support sum: 120 000 €
Budget: 251 000 €
A feature documentary film about the Finnish film star Anneli Sauli (1932–2022) whose career started in the 1950s
Bona Fide (Vilpitön mieli)
Director: Terjo Aaltonen
Scriptwriters: Terjo Aaltonen, Marko Erola
Producers: Juho Harjula, Jari Lähteinen
Production company: Kameron
Support sum: 52 000 €
Budget: 544 000 €
Bona Fide, a true crime documentary series, tells the improbable story of Jouni Ranta and Veli Seppä, a card cheat turned art dealer and a welder with a God-given gift for painting. With Veli's talent and Jouni's knack for selling the two begin unloading forgeries to the booming art markets – a venture that lasts for three decades. Veli's forgeries of Finnish masterpieces are so good that even the best experts of art museums and galleries are not able to call them out.
Cantores Minores – Näin unta että lauloin
Directors: Minna von Reiche, Tuuli Kuittinen
Scriptwriter: Minna von Reiche
Producer: Minna von Reiche
Production company: Femkanten Media
Support sum: 90 000 €
Budget: 245 000 €
A feature documentary film about a boys' choir
Kappale kauneinta Suomea
Director & scriptwriter: Jukka Kärkkäinen
Producers: Juha Löppönen, Sami Jahnukainen, Ove Rishoj Jensen
Production company: Mouka Filmi
Support sum: 150 000 €
Budget: 475 000 €
A new documentary film from Jukka Kärkkäinen, one of the directors of The Punk Syndrome
Short films
Overtime (Yliaika)
Director: Siiri Halko
Scriptwriters: Avi Heikkinen, Piia Leino
Producers: John Lundsten, Pauliina Piipponen
Production company: TACK Films
Support sum: 110 000 €
Budget: 175 000 €
A dystopian story of a society where people are euthanized when they turn 70
Peppermint Diesel 20%
Director & scriptwriter: Mariangela Pluchino
Producer: Danai Anagnostou
Production company: Kenno Filmi
Support sum: 71 000 €
Budget: 120 000 €
Two women working in film production are driving after work: Liboria (25) drives the van and Claudia (57), a make-up artist and former actress, is sitting next to her. They stop at a deserted gas station. Liboria mistakenly fuels the van with gasoline instead of diesel and as a result, they cannot move the van unless they empty the tank first. As another car enters the station, Liboria becomes paralyzed when she suspects that he is the same driver that months earlier, tried to kidnap her friend. Liboria communicates her suspicion and Claudia proposes to take the law into their own hands. She pulls out a prop gun from the back of the van and threatens the Driver to suck the fuel out of the car with his mouth.
Animated series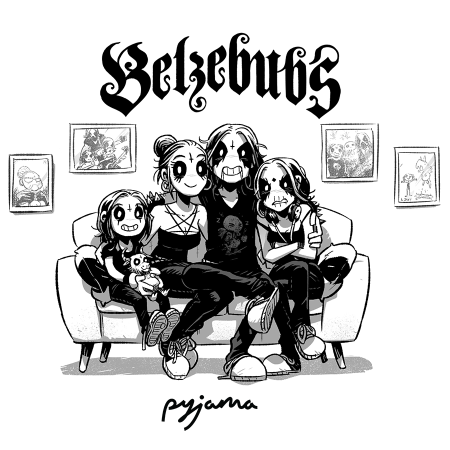 Belzebubs
Director: Samppa Kukkonen
Scriptwriters: JP Ahonen, Leo Viirret, Lassi Vierikko, Jenny Dahlström, Peter Mohan
Producer: Terhi Väänänen
Production company: Pyjama Films
Support sum: 100 000 €
Budget: 4 750 000 €
Belzebubs is a family sitcom documenting the daily mishaps of black metal cultists, their relationships, band issues and romantic life. The core storylines revolve around your average next-door devil-worshipping family: the dad Sløth, his wife Lucyfer, daughter Lilith and son Leviathan, and their everyday challenges of family life — raising kids, running a small business, attending an occult mass every now and then, you know how it is. The animated series is based on JP Ahonen's popular webcomic Belzebubs.
In the King's Town (Kuninkaan kaupungissa)
Director & scriptwriter: Katariina Lillqvist
Producers: Katariina Lillqvist, Sebastian Derkert-Rosenberg
Production company: Elokuvaosuuskunta Camera Cagliostro
Support sum: 80 000 €
Budget: 695 000 €
In the King's Town is a six-episode animation series and an independent, 60-minute animated film, based on interviews with Roma families who moved from North Karelia to Sweden, and on the musical tradition of Roma immigrants in the Seventies. Its main character, 7-year-old Feija Fors, leaves behind the dying village of Juuka and starts school in the huge suburb of Jakobsberg near Stockholm. Feija's traveling companion, a stray wolf that walks on two legs, does not make it easy for the duo to integrate in the big city, but in the end, both find their own ways to adapt to a world that is full of challenges and opportunities.