Tove selected as the opening film of Göteborg Film Festival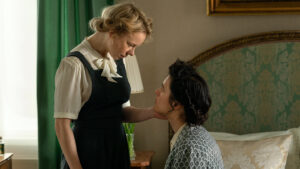 The artist biopic Tove, directed by Zaida Bergroth and written by Eeva Putro, will have its Swedish premiere at the festival on January 29, 2021.
Its cinema release in Sweden will be later in the spring. Domestically, Tove has already over 150,000 admissions, despite premiering in the middle of the pandemic in early October. The film was also named the Finnish official Oscar candidate. In Göteborg, it is included in the Nordic Competition.
Jonas Holmberg, the Artistic Director of Göteborg Film Festival, said, "We are very proud to have Tove as our opening film. In these challenging times, it feels liberating to open the festival with a dancing tribute to cross-border creativity. Tove is a sharp and touching depiction of a unique life story."
The festival will be organized next year online between January 29– February 8, 2021.
The Swedish distribution of Tove is handled by NonStop Entertainment and international sales by LevelK.