International Outlooks: "Time, Place, Films. That's It."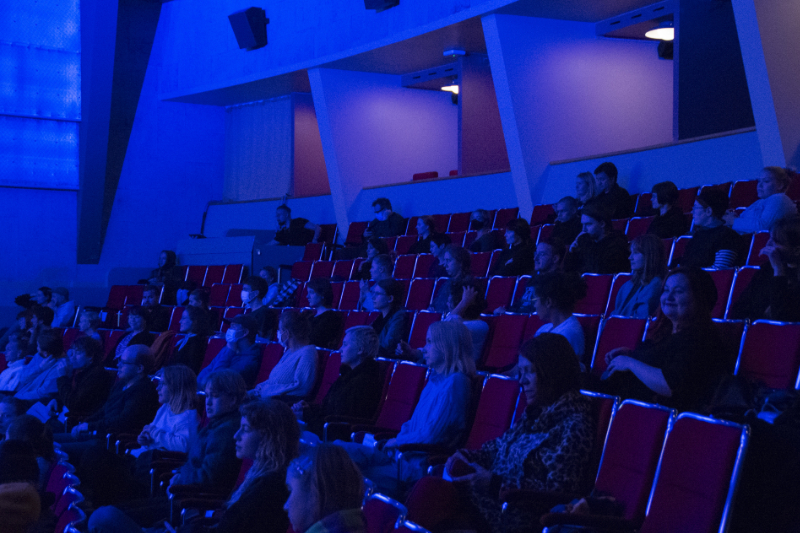 In our article series International Outlooks, festival and distribution professionals tell us what we should know about international distribution of films now that the business is in turmoil. In the fourth article, we look at the pandemic year through the eyes of a film festival organizer.
Read the article in Finnish >>
By Henna Raatikainen
Image above: Helsinki International Film Festival / Markus Kuusinen
The exceptional year brought the Helsinki International Film Festival back to the basics. Executive Director Anna Möttölä explains how the pandemic clarified the mission of the event by putting everything at stake.
In the midst of the global crisis of 2020, the Helsinki International Film Festival – Love & Anarchy (HIFF) enjoyed some fortunate timing. In early 2021, now that coronavirus restrictions have again closed cinemas in the Helsinki Metropolitan Area, it seems quite incredible that HIFF took place as a physical event only a few months ago.
The dates of Finland's largest film festival have become established for September. A few months earlier, or a few weeks later, the event could not have happened. The coronavirus situation worsened from October onwards, and on the second weekend of the 11-day festival, the organisers were already urging the audience to wear face masks.
In addition to luck, the success of HIFF took a tremendous amount of work, professionalism and cool heads from the team.
"Organising HIFF this year was quite frankly a huge financial risk," explains Anna Möttölä, Executive Director of the festival. "In the summer, we didn't know if any audience would be allowed to come."
This fear proved groundless. Approximately 30,000 festivalgoers came, which was 50% of the normal audience, although the audience capacity was limited to 30% per screening. The event went well and, according to the festival office, there were no chains of infection.
HIFF was one of the first – and actually one of the few – public events of its size held in Finland during the coronavirus pandemic. Up to one-half of the budget consists of ticket revenue, so there was real concern for the finances of the festival and the association organising it. Money had to be spent in advance without certainty about the situation in the autumn or the movements of the audience. During the autumn, various coronavirus subsidies were helpful, but in the spring and summer it was not yet known whether any would be available.
Planning the festival in a constantly changing situation was mentally difficult. According to Möttölä, the amount of practical work was many times higher than in previous years. The only way to succeed was to stick firmly to the chosen strategy and keep on believing. The team kept repeating a slogan coined by Artistic Director Pekka Lanerva during the summer: HIFF is coming – whether or not the audience does.
"It is not possible to change plans every day," Möttölä explains. "Of course, we adjusted when, for example, the number of seats per screening had to be drastically reduced just moments before the festival started. But we kept moving towards a physical festival. And, it's also true that to not go ahead would for sure have meant grave financial loss."
The coronavirus pandemic shaped every aspect of festival work, from curating to ticket sales. In advance, the main concern was the programme: how would it be put together when, for example, the Cannes Film Festival was cancelled and the circulation of films at major festivals was interrupted – or could not even begin?
HIFF responded to the changes in programme work by assembling a crew of curators with different specialities to help the core team in searching for interesting films, for example, at online events and recommending them for the programme. According to Möttölä, in the end the lack of films honoured at class A festivals was not a problem. The situation was turned into a win and an opportunity to broaden the programme: For example, HIFF finally organised African Express, a series of African films.
Aspects of the festival like communication, volunteer work and planning the screening chart, also had to be rethought. Making screening deals was more uncertain and laborious than before, and working from home caused its own difficulties. However, from July onwards, as the pandemic eased in Finland, the team was allowed to work at the office again under strict precautions. It was a relief, and perhaps an important reason for the success of HIFF.
"Physical presence is particularly important in festival work. It is impossible to achieve a certain momentum remotely. The fact that we were able to be together at the office certainly influenced the atmosphere of the event itself, as the mood of the office is conveyed to volunteers and the audience."
After the event, which observed strict safety precautions, the team was showered with sincere praise by an audience in desperate need of cinema experiences as well as Finnish and foreign distributors and filmmakers. Möttölä says that she has also received valuable suggestions for changes for the future.
"Everyone was full of relief and joy to find that somewhere in the world a physical film festival was actually taking place. The cinema experience was highlighted in a completely different way. Providing it became a matter of honour for us this year, perhaps even our main task," she says.
A wider question than online screenings
During the autumn and winter, HIFF has been carefully following the ongoing changes in the film industry. The whole team is particularly concerned for cinemas and thus about the future of festivals and, more broadly, film distribution.
"The consequence of the pandemic was not what it might have looked like in the spring: that a dozen blockbuster premieres would be postponed and then that was it. It has only recently begun to become apparent what enormous and profound structural changes are taking place in our industry," Möttölä says.
Discussion concerning online screenings and online events at festivals should be set in relation to the wider subjects of streaming in general and changes in viewing habits, Möttölä says. These are matters of major cultural and social change.
"You never really had to think about it before or say it out loud. But let us say it now: if there are no cinemas, there is no film distribution in the usual sense. And no festivals. Then the whole thing fades away," she says.
In Finland, visits to the cinema fell by 54% in 2020 from the previous year. In total, there were 3.9 million admissions out of which 1.6 million came after the March lockdown. Of course, the coronavirus is not the only reason the film industry is in a state of upheaval, but the pandemic has accelerated changes that began much earlier.
"People do watch movies by streaming all the time. That is not the point. But what do we choose to watch at home and what is the online debate about films like?"
The lifespan of films going to Netflix, HBO Max or Disney+ only or simultaneously with their cinema release is completely different from that of films starting with cinema distribution. These films are marketed and discussed online differently to cinema releases.
According to Möttölä, from the distributor's or festival's point of view, films are also easier to "lose" online: who follows the whole lifespan of the film and where it is talked about? Of course, in the past few years, we have also seen that, at best, simultaneous release in the cinema and online can bring new audiences to smaller films.
Möttölä points out that major premieres currently going to streaming services or simultaneously to streaming and cinemas were still primarily designed for the big screen. What happens if people start producing movies directly for a smaller screen?
"If everything starts to be made primarily for streaming, the quality, in various sense of the word, will not be the same as it is now. For better or worse, aesthetics and storytelling take on new forms as they always do when technology and modes of presentation change. Resources are channelled differently. We are living in a golden era of TV drama, and no expense is being spared per se, but TV series work on a different logic to films. The ways in which films are made and distributed are changing; they must, but we have to understand this: quality will most likely not be the same if films are primarily being made to be viewed at home."
And what kind of films then work in the world of streaming – that is, when viewed at home?
"For example, franchise movies where you know what you're getting. In an apocalyptic world, where absolutely everything would be viewed at home, the curation of the festival would also change. Would we choose different films for the programme, those that are easy to present with online logic?"
Algorithms and targeting also raise questions for streaming and the online programme of festivals. For example, the audiences at HIFF are used to having the films in the programme presented in a relatively equal way in the paper catalogue and on the website, though broken down into series. The joy of discovery is part of the festival experience. What happens if an algorithm pushes only certain movies to a "certain type" of viewer?
"The vague sense of knowing that information has been collected about you and you are being offered something to watch on that basis… We are somehow so easy to manipulate online," Möttölä muses. "In all this, the question is, when the genie is released from the bottle, can we ever get it back in?"
Quality only – also online
For Möttölä, a shared experience in a cinema is clearly the most preferred – or perhaps the only proper – way to watch films. This year, she has given particular thought to the old adages of communality and cinema magic, which had sounded like rhetoric in the past.
Nevertheless, she stresses that the online presence of every contemporary festival will only increase in the future. For festivalgoers, the online becomes part of the festival experience. For Möttölä, in the longer term, this means more than just online screenings; it's about how the festival uses the web in a wider sense and operates there, and how it creates dialogue with and between the audience.
In Möttölä's opinion, the success of online events that have taken place in the last year has varied. She thinks that the events that have some kind of link to the physical world work best.
"Of course, there are differences between festivals, and the pandemic is an exceptional situation. The internet offers interesting opportunities, but especially in the future it will be essential to consider what purpose online screenings serve at festivals. How do they contribute to the festival's goals and serve the public and industry in the best possible way? We already have very good streaming services and nicely curated TV channels."
For Möttölä herself, a film festival specifically means something physical, a shared feeling in a shared time and place. The big question is how the online experience could be developed in a communal direction.
Due to the pandemic, HIFF's spring edition Season Film Festival had to be moved from March to autumn to take place during Love & Anarchy. To bring cheer during Finland's spring lockdown, the HIFF association, together with its broadcasting partner Yle's theme month Women's Film March hosted an online event during the dates Season FF would have taken place.
According to Möttölä, the experience was excellent, but for main event HIFF – Love & Anarchy an online-only event was never an option. There was no Plan B, and if the physical event could not have been organised, HIFF would simply have been cancelled or postponed.
Of HIFF's 140 feature films, 20 could be watched on the viewing platform Festival Scope, a long-time partner of the festival. In the middle of the pandemic, HIFF built its web content particularly from the point of view of accessibility, for audiences not able to attend cinema screenings and events. Based on collected data, most online viewers came from outside the Helsinki Metropolitan Area, so new audiences were also reached, Möttölä explains.
Möttölä thinks that instead of creating their own new viewing platforms, festivals will form partnerships with existing platforms. What she considers an even more interesting and wider issue than technical implementations, is how to integrate the possibilities of the internet into a physical festival. The internet can serve as a forum for discussion: a place for asking questions, challenging, and also admitting failure and mistakes.
"I look forward to the innovations of this and the coming years in the festival field. At the same time, I believe that both the audience and industry share my fervent hope that we can get our festivals back to cinemas as soon and safely as possible."
HIFF made more use of online solutions this year, especially at the industry event Finnish Film Affair which guests were able to attend remotely. As travel decreases – "hopefully for good!" – remote connections are also providing audiences and filmmakers with ways to meet each other.
Industry events will continue to take place in this kind of hybrid form, Möttölä believes.
"It is essential to be able to meet colleagues face to face, but I believe that remote participation is also here to stay. Its successful implementation is one of the next major challenges facing the industry."
In connection with online screenings, subjects tackled at this year's Finnish Film Affair featured, for example, sales agents' strategies and the changing distribution field. Möttölä understands the concern about the financial balance of online festivals and fair screening compensations in this new situation. She herself wants to avoid confrontation and reminds us that the problem is a shared one.
"We think just as much about safety, usability and how a film screened at the festival looks and sounds. This applies to both online and offline screenings. Films can be screened in all kinds of unusual places, but always with respect for the work. We do not settle for shoddy technical work at physical venues. So why should we accept them in an online environment?" she asks.
Möttölä says that HIFF's long-standing and good relationships with distributors and agents were weighed up and rewarded this year. In the midst of the crisis, extensive international networks were of enormous help and support. She gives a firm opinion on online screenings and festivals in relation to maintaining good cooperation.
"There are certainly many solutions and ways to approach the challenge. Many organisers did things online for the first time, and not everything worked out. Let me quote the advice of Outi Rehn, our Programme Coordinator: do not do an online festival unless you have the resources, especially the money."
Möttölä says she thinks of the film industry as a circle. If you whittle away at the structure in one place, the whole circle collapses, and eventually so do you.
"We want to continue to be fair to filmmakers, cinemas and distributors in terms of compensation and other practices. We will not chip away at the budget there. This year, we also invested a lot of money in our online screenings – they were also a financial risk for us. I do want to state that 2020 was a probably not a money-maker for any festival."
Blurring and Clarity
Armed with lessons learned in the past twelve months, HIFF is preparing for another exceptional year. Most likely, the festival in September 2021 and Season Film Festival in March will still be subject to some coronavirus restrictions.
The international situation is confused, and for now it is difficult to predict what course the year takes for films and festivals. However, this year will probably be easier for HIFF than last year, as much has been learned and good practices have been exchanged within the industry.
"Over more than a century, the film industry has undergone enormous changes, and I think it is quite capable to adapting to new situations. For sure, this is always painful because it involves money and structures," Möttölä says.
The revolution in the industry is forcing film industry events and organisations to turn their attention not only to global events but also to their own strengths and weaknesses.
"When everything is up in the air anyway, it is a good idea to also look at poorly functioning, potentially toxic structures," Möttölä muses.
In her view, right now in the midst of the crisis, it is necessary for festivals to clarify, both for themselves and for the industry as a whole, what is the job of film festivals in the circular whole of the industry. What is their role? What can they achieve in the future? What is the significance of a local event?
Class A festivals serving the whole world must also rethink their role in highlighting great films, film launches and creating a buzz.
"Whether the event is big or small, we have to be able to prove our worth over and over again every year. We need to be increasingly honest about what we can offer to audiences, distributors and filmmakers. Everyone needs to know what they are doing."
According to Möttölä, when the dates, venues and screening methods of the major international festivals change, and when basic attributes such as space and time become blurred online, the importance of a shared time and place become even more important at HIFF.
"We are serving this little northern outpost and its audience. We bring films here for them to watch that we would not otherwise see in cinemas, and we do our part for Finnish film distribution. Naturally, we are an active part of the international film community and contribute to it. But as an event, we contribute to local, Finnish and Nordic film culture in particular. This is becoming clearer and clearer," she says.
Möttölä wants HIFF to play an increasingly strong and courageous role as a forum for discussion. And if you want to stimulate debate, you have to look at your own blind spots, even if it feels unpleasant. If you claim to be diverse, equal and courageous, you must have the courage to look critically both outwards and inwards.
"Only then can you ultimately be credible and achieve something valuable."
The association organising HIFF has the declared task of promoting and enriching film culture in Finland. This year, the task has also been clarified as specifically promoting cinema culture in Finland.
"We are ready to fight for a shared cinema experience, even if it becomes even more expensive and difficult," Möttölä promises.
"These things that seemed self-evident in the past are, in the end, the most valuable. Time, place, films. That's it."