Meet the Finns at the European Film Market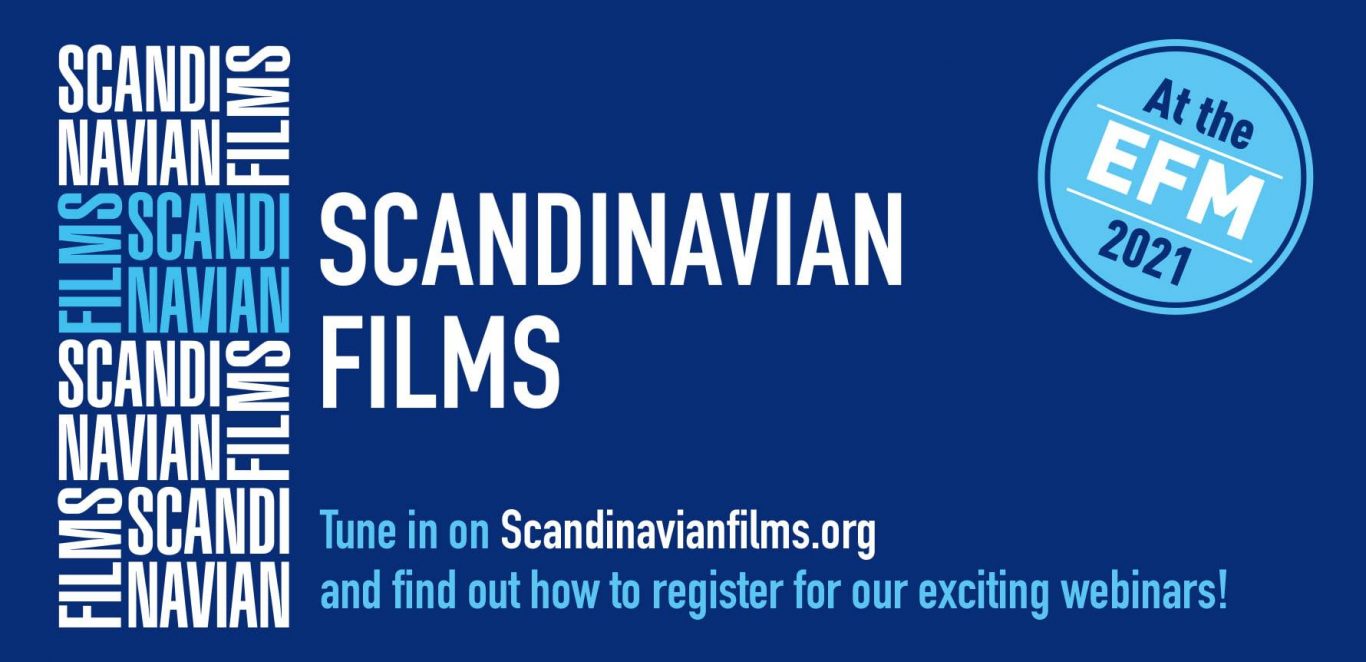 European Film Market takes place online March 1–5, 2021.
Join the Scandinavian Films webinars
The Finnish Film Foundation has a virtual booth at the EFM where you can make meeting requests. Meetings can also take place in the joint Scandinavian Films zoom room which is open daily during the market.
Scandinavian Films will host three webinars, moderated by Wendy Mitchell, which are open to all, no accreditation required.
Tuesday, March 2, at 11:00 CET
Joining Forces: Collaborating for Strong Co-Productions
Wednesday, March 3, at 11:00 CET
The Kids Are All Right: The Boom in Family Films
Thursday, March 4, at 11:00 CET
Deal or No Deal: Demystifying International Sales
For details and registration, go to: scandinavianfilms.org
The legendary Scandinavian Happy Hour is hosted in Wonder Room on Tuesday, March 2, between 17–19 CET.
We co-produced six Spotlight videos together with Audiovisual Producers Finland APFI. The filmmakers of Any Day Now, in Berlinale Generation, and the upcoming Friday, The Twin and The Blind Man Who Did Not Want to See Titanic tell about their works. You can also get to know two esteemed film composers Laura Naukkarinen and Pessi Levanto.
Read our story on Finns in the Co-Production Market and Berlinale Talents
See our dedicated EFM catalogue page
Any Day Now and After Life followed by Red Impasto Jar in the festival programme
Any Day Now, the first feature from Hamy Ramezan, was selected to the Generation Kplus programme at Berlinale. The film centers on the Iranian Mehdipour family who have come to Finland as asylum seekers. It premiered in Finland last October to critical acclaim and it is now nominated for six Jussi film awards, including best film and director.
Jonna Kina's latest work After Life followed by Red Impasto Jar is in Forum Expanded. The work is a composition of two separate films that explore transcendental issues through illegal excavations of tombs – a phenomenon faced by many rural archaeological sites. Kina returns to Forum Expanded after screening their film Akiya in the programme last year.
A French-Finnish-Israeli-German co-production The First 54 Years – An Abbreviated Manual for Military Occupation is in the Forum section. The documentary film, directed by Avi Mograbi, was supported by The Finnish Film Foundation. The Finnish co-production company is Citizen Jane Productions.