Fantastic year for Finnish and Sámi films in Toronto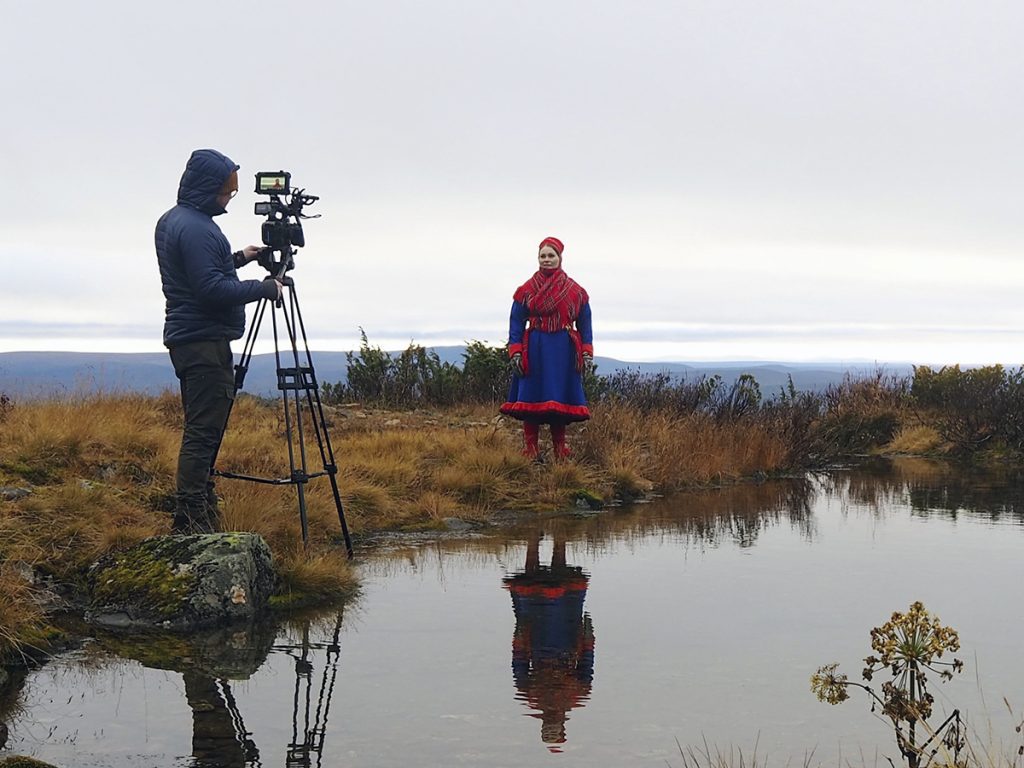 The Finnish films selected to TIFF really highlight the diversity of the Finnish industry: two feature films, a documentary film, an animated short film and a drama series. TIFF takes place September 7–17, 2023.
Image: Homecoming filmmakers Anssi Kömi and Suvi West. Photo by Joni Saijets.
Celebrating its world premiere in Toronto, the documentary feature Homecoming (Máhccan) will screen in TIFF Docs. The film focuses on the repatriation of Sámi heritage from Western museums. The artefacts returning to the care of the Sámi people symbolize identity, stolen history, connection to the ancestors, and a whole world view. In the film, indigenous filmmaker Suvi West faces the collective pains of her people.
Homecoming is directed by West and Anssi Kömi and produced by Janne Niskala for Vaski Films. The domestic premiere is in late September.
Altogether TIFF has selected three Sámi films in its program this year. In addition to Homecoming and the Norwegian production The Tundra Within Me, Je'vida, directed by Katja Gauriloff, made the selection. The historical drama, written by Gauriloff and Niillas Holmberg, premiered in Tribeca last June and is now featured in TIFF's Centrepiece section.
Set in three different eras, the film tells the story of a woman who abandoned her heritage due to assimilation policies. Je'vida is produced by Joonas Berghäll, Satu Majava, and Anna Nuru for Oktober. The domestic premiere is in October.
Also featured in Centrepiece, Aki Kaurismäki's latest film Fallen Leaves will continue its international success in Toronto. After the Jury Prix win in Cannes, the film has screened in Sydney, München and Karlovy Vary among other festival. In North America, New York Film Festival will also present the film this fall. Fallen Leaves will have its theatrical premiere in Finland and several other countries starting September.
Nun or Never!, an animated short by Heta Jäälinoja, is in the Short Cuts section. The film premiered and was awarded in Annecy last June. The film is set in a nunnery where the harmony breaks when one nun finds a man in the garden. The film is produced by Jani Lehto for Böhle Studios.
TIFF presents a selection of high-end drama series under their Primetime banner. Estonia, an international co-production between Finland, Sweden, Estonia, and Belgium, will premiere at the festival. The 8-episode series focuses on the tragic sinking of MS Estonia in 1994 and the investigation that ensued.
The series showrunner is Miikko Oikkonen, with Måns Månsson and Juuso Syrjä directing. It is produced by Matti Halonen and Johannes Lassila for Fisher King. Estonia is a collaboration between C More, the Finnish MTV and the Swedish TV4. International sales are handled by Beta Film.
Primetime section features even more Finnish talent: filmmaker Juho Kuosmanen (Compartment no. 6) is the head director of the British series Alice & Jack. It is produced by Fremantle and broadcast by Channel 4 in the UK